[ad_1]

This daily round-up brings you a selection of the latest news and updates on the COVID-19 pandemic, as well as tips and tools to help you stay informed and protected.
Top stories: Early signs suggest vaccines might not stop Delta variant transmission; Australia's New South Wales expands lockdown; India approves Johnson & Johnson COVID-19 vaccine.
1. How COVID-19 is affecting the globe

Confirmed cases of COVID-19 have passed 202.7 million globally, according to Johns Hopkins University. The number of confirmed deaths stands at more than 4.29 million. More than 4.43 billion vaccination doses have been administered globally, according to Our World in Data.
Most people who have a third 'booster' shot of the Pfizer/BioNTech COVID-19 vaccine experience similar or fewer side effects than after their second dose, according to initial results of an Israeli study.
Tunisia vaccinated more than half a million people yesterday after the country received more than 6 million vaccine doses.
Malaysia is set to ease some COVID-19 restrictions for fully vaccinated people in eight states, Prime Minister Muhyiddin Yassin said yesterday.
2. Early signs suggest COVID-19 vaccines might not stop Delta transmission

Scientists at Public Health England (PHE) said on Friday that there are early signs that people who have been vaccinated against COVID-19 are able to transmit the Delta variant as easily as those who haven't.
"Some initial findings … indicate that levels of virus in those who become infected with Delta having already been vaccinated may be similar to levels found in unvaccinated people," PHE said in a statement.
"This may have implications for people's infectiousness, whether they have been vaccinated or not. However, this is early exploratory analysis and further targeted studies are needed to confirm whether this is the case."
The findings echo those from the US Centers for Disease Control and Prevention, which warned last week about the infectiousness of vaccinated people with the Delta variant.
Each of our Top 50 social enterprise last mile responders and multi-stakeholder initiatives is working across four priority areas of need: Prevention and protection; COVID-19 treatment and relief; inclusive vaccine access; and securing livelihoods. The list was curated jointly with regional hosts Catalyst 2030's NASE and Aavishkaar Group. Their profiles can be found on www.wef.ch/lastmiletop50india.
Top Last Mile Partnership Initiatives to collaborate with: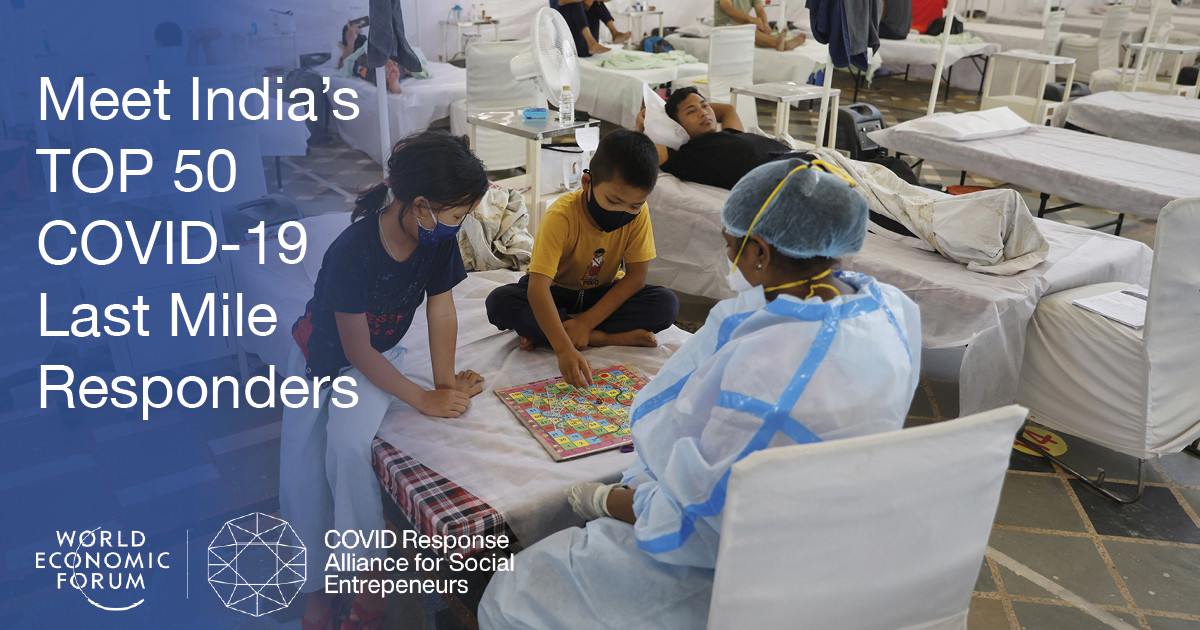 3. New South Wales, Australia, expands lockdown
The Australian state of New South Wales has expanded its COVID-19 lockdown to include the rural town of Tamworth. The move comes after people known to have COVID-19 travelled there from Sydney without authorization.
"As a precaution, the health experts have recommended we lock down Tamworth for one week," New South Wales Premier Gladys Berejiklian told reporters in Sydney. The town lies some 400km northwest of Sydney.
Officials also urged people in the Byron Bay area to get tested after a man travelled from Sydney, the epicentre of the state's outbreak, to the tourist spot about 767km to the north.
The state of Victoria has announced plans to ease restrictions except in the capital Melbourne, which will remain in lockdown until at least 12 August. Brisbane, Queensland, came out of a stay-at-home order today.
[ad_2]

Source link