[ad_1]

Photo by Anindito Mukherjee/Getty Images)
By:
Pooja Shrivastava
DURING the Covid-19 pandemic in India, there were some doctors and healthcare staff who went beyond their line of duty to mitigate the pain of fellow citizens. Eastern Eye looks at some of them who made a difference to the communities they serve:
1. Dr Rajendra Bharud
Doctor-turned IAS officer Rajendra Bharud's actions during the pandemic should have been replicated around the country.
Posted as a district collector in Nandurbar, a tribal district in Maharashtra, Bharud, a doctor -who switched careers and became an Indian civil services officer – set up three liquid oxygen plants at the district hospital when numbers were going down after the first wave.
There were just 190 Covid patients in the first wave in Nandurbar, but Bharud had the foresight to make the district self-reliant in terms of oxygen requirement before the second wave hit. At the time, when the district reported as many as 1,200 cases in a span of 24 hours, the hospitals in the area did not experience any oxygen shortage, unlike in Delhi, Mumbai and Lucknow.
Owing to its adequate resources and firm health infrastructure, not only did the district's residents find respite in Nandurbar, but so did people from neighbouring districts and states (including Madhya Pradesh and Gujarat).
2. Dr Santhosh Kumar
Dr Santhosh Kumar has been south India's go-to man since the start of the pandemic.
With more than 20 years experience of working through epidemics and civilian health crises, including the Ebola outbreak in Sierra Leone and in war-torn Syria, the 48-year-old has been at the forefront of the pandemic fight since India saw its first case in Kerala.
From setting up India's first-of-its-kind swabbing centre to isolation centres, Covid hospitals and intensive care units to measures in dealing with Covid deaths, Kumar played a pivotal role in laying down protocols and teaching other medics on how to deal with the crisis.
3. Nurse Swati Bheemgaz:
Swati Bheemgaz, who works at the Railway Hospital in Bilaspur, learnt sign language overnight through the internet after she saw that speech-impaired Covid patients were struggling to communicate.
Going beyond her line of duty, the nurse spent her spare time learning sign language to better understand and communicate with a deaf patient admitted to the hospital.
4. Dr KK Aggarwal:
Padma Shri awardee Dr KK Aggarwal's informative videos, question-answer sessions and advice played a pivotal role both in the first and second waves of the pandemic.
A former president of the Indian Medical Association (IMA), he was a pioneer of
streptokinase therapy for managing heart attacks and introduced the colour doppler echocardiography technology in India.
During the pandemic, he used social media to answer people's Covid and vaccine-related queries. In one such session in May, he revealed that he too was suffering from Covid and a few days, sadly succumbed to the disease.
5. Nurse Shagufta Ara:
Shagufta Ara, a nurse based at a maternity ward in Srinagar's hospital, has been delivering babies and helping Covid-positive pregnant mothers during the pandemic.
A mother of two small children herself, the nurse reportedly worked without taking time off or holidays and helped deliver more than 100 babies in a few months as other medical staff battled with Covid-19.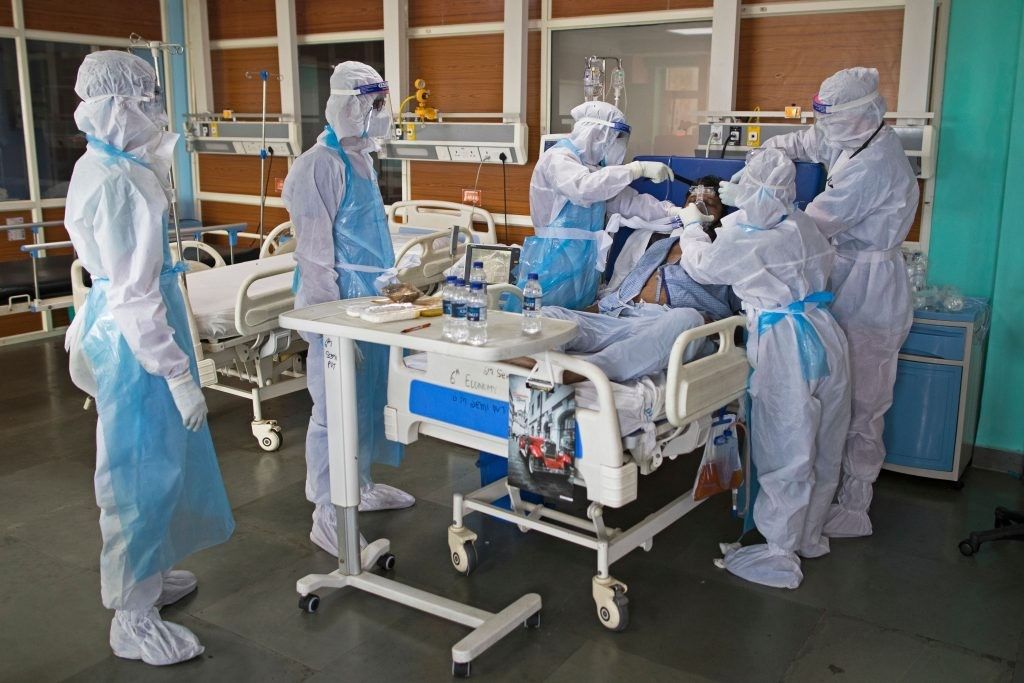 6. Dr Victor Emmanuel:
Victor Emmanuel, a resident of Hyderabad, is a 60-year-old doctor who has been charging anyone living 'below the poverty line' a meagre fee of Rs 10 (9p) while Indian soldiers are treated free of cost.
Throughout the pandemic, Emmanuel treated an average of over 100 patients per day while his team also distributed food among the needy.
7. Dr Randeep Guleria:
Dr Randeep Guleria is the director of All India Institute of Medical Sciences (AIIMS).
His videos and social media messages have helped counter myths about the virus as the country battled Covid-19. He also took on those who tried to promote fake news about vaccines or 'home treatments' for Covid.
8. Dr Jigmet Wangchuk:
Working in one of India's remotest villages in northern parts of Ladakh, government medical officer Dr Jigmet Wangchuk has been working tirelessly to keep that part of the country safe.
Since it has poorly equipped hospitals and few medical professionals trained to handle the situation, Wangchuk has been travelling to the homes of infected people in some of the most remote villages in India to check on them and to spread awareness about Covid-19.
Wangchuk also took the initiative of setting up isolation facilities in remote areas of Ladakh with oxygen cylinders, oxygen concentrators, pulse oximeters
and PPE kits. He also volunteers to assist the armed forces along the Indian borders.
Wangchuk also has transformed the once dilapidated government's public health centres into modern facilities in Ladakh.
9. Dr Harmandeep Singh Boparai:
A specialist in anesthesiology and critical care, Dr Harmandeep Singh Boparai is a frontline worker from New York. As India struggled to contain a second wave of the Covid-19 pandemic, this 34-year-old Indian American Sikh doctor returned to his roots to help fight the battle against Covid-19.
Using his first-hand knowledge of the pandemic in the US and his experience in treating Covid patients, Boparai worked extensively in Amritsar, India.
Later, he joined Doctors Without Borders, an international medical humanitarian
the organisation, and worked in a 1,000-bed Covid hospital in Mumbai.
10. Dr Jagadish Rai:
Obstetrician and general practitioner Dr Jagadish Rai worked in a small town in coastal Karnataka for the past 40 years. Despite being more than 60 years old and suffering from leukaemia, Rai continued to work six and a half days a week during the peak of the pandemic.
Although he was not posted on Covid duty officially, he continued to see patients in his private practice, many of whom were Covid positive and were denied medical attention elsewhere, media reports said. He later contracted Covid and succumbed to the disease.

[ad_2]

Source link